Who is Justine Mol?
In 1949 I was born in a Dutch catholic family which would have ten children in the end. During my childhood I discovered how important equality, being really seen and seeing the other, are for me. When I had three children myself, my son and two daughters and I raised each other in this perspective.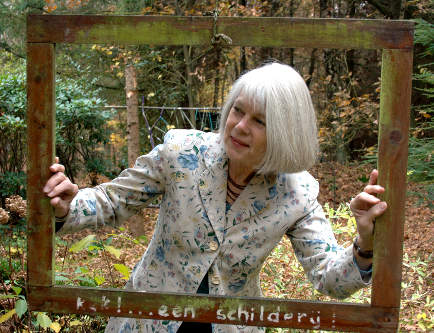 From my interest in language I studied English. As a teacher I did not flourish. I was too vulnarable and had too little self confidence and self-knowledge to really 'stand' in front of a class. I looked for a workfield where I could support people in expressing what was alive in them and how to communicatie this in a way that it would be heard and understood. This led me to speech therapy and I had my own practice for 25 years. I also worked as a speech therapist at schools for children with learning difficulties and at Rudolf Steiner schools.
As far as language, speech and voice are concerned I got pretty far in my attempts, but something kept missing. How can a human being, with or without words, really meet another human being? My search led me through edukinesiology, reiki, several art expressions and anthropology. In 2002 I followed a year training at the Acadamy of Social Art in Leiden.
I came closest to the answer to my question in Nonviolent Communication by Marshall Rosenberg. In 1998 I first came in touch with it through an article in Ode and in 2004 I became an internationally certified trainer. In March 2008 I left the international group of certified trainers. I love being close to the people with whom I work. I want to be able to see and touch them. I stay connected with the international netwerk and my life and work are still based on Nonviolent Communication. I am a member of the GC-Kring Nederlands (Dutch NVC circle).
I give trainings and lectures on request.
I coach one-to-one (life or by telephone) and I also work as a coach with couples and families. In May 2008 I became a Zen-Coach, trained by Kǻre Landfald from Sweden. I see Zen Coaching as a worthy extra to Nonviolent Communication. Since 2009 Steef Athmer and I offer trainings in Coaching with Nonviolent Communication.
After I had translated several books of the HeartMath Institute and had written a number of articles in magazines I wrote my first book in 2005,  Opgroeien in Vertrouwen. This book has now been published in Polish, English (Growing up in Trust), Swedish, German and Italian.
In 2007 De Giraf en de Jakhals in Ons was the next book. This introduction to Nonviolent Communication is also available now in German and English (The Giraffe and Jackal within).
I contributed to Op Zoek naar de Kleine Giraf (2008), a booklet for children between eight and ten, and was co-creator of the Dutch version of the NVC game GROK (2008).
In 2010 two books appeared at the same time, Geweldig Communiceren met Jongeren and Geweldig Communiceren voor Jongeren.
At the end of 2011 I was assaulted in my house. With the use of Nonviolent Communication I managed to limit the damage substantially. I wrote a book about it, Ik werd overvallen (2012).
In 2006 I visited Henk Haalboom in prison as a volunteer. This man was convicted for murder for 20 years. More and more proof is found that he is not guilty. Supporting Henk and his lawyer on our way to a re-opening of the case has become an essential part of my life and work. I started a foundation, Hart voor Henk Haalboom, and a website www.onschuldiggevangen.nl . Part of it is in English.
I seem to be strongly invited to explore my attitude towards violence and injustice. I honour my name Justine by doing so. I experience it as an enormous enrichment and deepening of my life.
Since a couple of years I live in the woods. In my own house and in nature I am coming home in myself. I see this as a condition for meeting others, for how can anyone meet me when I am not at home.
At moments that I am without any judgments, I can feel at one with everything and say with sincerity:
There is only one land – the world,
there is only one race – humanity,
there is only one religion – love.