Spelmateriaal
GROK, an NVC card game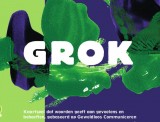 GROK is a card game that gives words to feelings and needs and brings life into the communication. GROK contains 56 FEELING cards and 56 NEEDS cards and 18 different games to play with them. There are different levels of complexity. Some games can be played by children. GROK visualises the different nuances in feelings and needs in artful, timeless pictures made by Margreet de Bruin.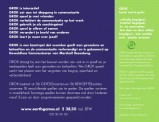 GROK is made by Ecoprinters, printed on FSC paper with BIO ink, made from recycled cardboard and produced climate neutrally. The game is an adapted version of the English GROK made by Jean Morrison and Christine King, www.nvcproducts.com. The Dutch version is a co-production of Comma2me and Anne Mijke van Harten from Earthgames. For the possibility to combine a publication of the game in your language with the Dutch lay-out please send an email to info@earthgames.nl 
I translated the NVC DANCE FLOORS from Gina Lawrie and Bridget Belgrave into Dutch. See www.nvcdancefloors.com
GROK, een kaartspel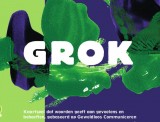 GROK is een kaartspel dat woorden geeft aan gevoelens en behoeften en de communicatie verlevendigt. GROK bestaat uit 56 GEVOELkaarten en 56 BEHOEFTEkaarten waarmee 18 verschillende spellen zijn te spelen. De spellen variëren in moeilijkheid. Sommige spellen kunnen daarmee ook door kinderen vanaf 8 jaar en door jongeren gespeeld worden. GROK maakt de vele nuances in behoeften en gevoelens zichtbaar in kunstzinnige, tijdloze kaarten gemaakt door illustratrice en vormgeefster Margreet de Bruin.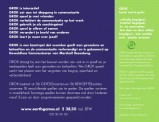 GROK is gemaakt bij de Ecodrukkers, gedrukt op FSC papier met bio-inkten, gemaakt van recycled karton en klimaatneutraal geproduceerd. Het spel is een bewerking uit het Engels door Justine Mol. (de Engelse versie is te koop via www.nvcproducts.com). GROK is in Nederland uitgegeven door en te bestellen bij earthgames
GC DANSVLOEREN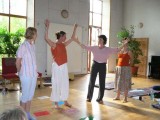 De GC DANSVLOEREN zijn de Nederlandse vertaling van de NVC DANCE FLOORS van Bridget Belgrave en Gina Lawrie. Justine vertaalde de 7 dansvloerkaarten, de pagina's Intro en de Verzoeken van Gina en Bridget ov er het gebruik van de dansvloeren. Het Facilitator's Handboek is beschikbaar in het Engels, Deens en Duits.
Je kunt meer info vinden en ook de dansvloeren bestellen via